PROFESSIONAL DEVELOPMENT
SUPERIOR STAFFING
PRACTICE CONSULTING
Evidence Based Rehabilitation following Rotator Cuff Repair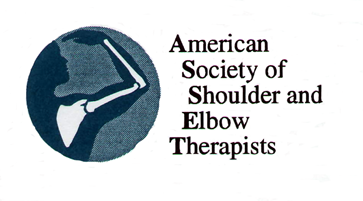 COURSE OVERVIEW
This 6-hour online course was produced by the American Society of Shoulder and Elbow Therapists (ASSET). It is designed to provide the clinician with an advanced understanding of the anatomy and biomechanics of the shoulder girdle complex, and an appreciation of the critical factors related to rotator cuff pathophysiology, injury, tissue integrity, surgical repair and healing. These factors will be thoroughly explored to support an evidence based framework for the rehabilitation of the repaired rotator cuff. A detailed guideline including range of motion, exercise, and return to activity progressions will be presented with demonstration of key intervention techniques for each stage of rehabilitation.
Price $120.00
CEU Approval:
Pennsylvania State Board of Physical Therapy: 6 hours (.5 GEN, 5.5 DA)

OBJECTIVES
Following completion of the course, the participant will be able to:
• Appreciate the relationship of force couples of the glenohumeral and scapulo-thoracic joints and apply these concepts in rehabilitation of specific rotator cuff pathologies.
• Articulate the surgical considerations of a repaired rotator cuff and how they impact the rehabilitation process.
• Perform open and closed kinetic chain exercises to improve rotator cuff strength and scapular stabilization.
• Integrate evidence based exercise progressions for the rotator cuff and scapular musculature to maximize the healing of the rotator cuff repair and optimize the functional outcome of the shoulder complex.
• Apply an evidence based treatment guideline provided by the course faculty to small, medium, and large rotator cuff repairs.

FACULTY
Chuck Thigpen, PT, PhD, ATC (Proaxis Therapy/Duke University)
Dr. Thigpen is a Clinical Research Scientist with Proaxis Therapy. He completed his PhD in Human Movement Science from the University of North Carolina-Chapel Hill in 2006. He has presented at the national and international conferences, and teaches in both the academic and continuing education arenas. He is currently leading several funded studies including: "A Randomized Control Trial for Treatment of Shoulder Impingement", "Prospective Evaluation of Risk Factors in Adolescent Baseball Players", and "Adaptations to Pitching Over Time in Professional Baseball Pitchers". He served as the staff athletic trainer for the 2002-2003 University of North Carolina women's basketball team. Before that, Chuck worked as a graduate assistant with UNC wrestling, men's lacrosse, women's golf, and women's crew. His primary research interest is shoulder injury, rehabilitation and prevention. Thigpen completed a M.S. in Human Movement Science with a concentration in Sports Physical Therapy from UNC in May of 2003. He earned his B.S. in Physical Therapy from East Tennessee State University in 1997. Thigpen is a NATABOC certified athletic trainer and a member of the National Athletic Trainer's Association, as well as the American Physical Therapy Association's Sports Physical Therapy and Orthopedic Special Interest Groups. He is currently serving as the Past President for the American Society of Shoulder and Elbow Therapists.
Reg B. Wilcox III, PT, DPT, MS, OCS (Brigham & Women's Hospital, Boston, MA)
Dr. Wilcox completed his B.S. in physical therapy at the University of Vermont, his transitional DPT degree from the MGH Institute of Health and his advanced MS degree from MGH Institute of Health Professions. He obtained board certification from ABPTS in Orthopedics in 2006. He is a member and current Education Chair of the American Society of Shoulder and Elbow Therapists and serves as an Adjunct Clinical Assistant Professor in the Department of Physical Therapy at MGH Institute of Health Professions. He has held various clinical physical therapy positions over the last 15 years at Deaconess Hospital (Boston, MA), Beth Israel Deaconess Medical Center-West Campus (Boston, MA) and Brockton Hospital (Brockton, MA). He has spent the last 9 years as a Clinical Supervisor of Outpatient Services in the Department of Rehabilitation Services at Brigham & Women's Hospital in Boston, MA. His main focus of clinical work is related to shoulder dysfunction and the postoperative management of patients having undergone shoulder procedures. He was the lead author of Wilcox RB, Arslanian LE, Millett PJ. Rehabilitation Following Total Shoulder Arthroplasty. J Orthop Sports Phys Ther. 2005; 35 (12): 821-836, which was awarded the George J. Davies - James A. Gould Excellence in Clinical Inquiry Award by the Journal of Orthopaedic & Sports Physical Therapy. He was the senior author on Boudreau S. Boudreau E. Higgins LD. Wilcox RB. Rehabilitation following Reverse Total Shoulder Arthroplasty. J Orthop Sports Phys Ther. 2007, 37(12): 735-744. His other published work has focused on rehabilitation of the shoulder and the use of diagnostic imaging in physical therapy practice.
Brian Leggin, PT, DPT, OCS (Good Shepherd Penn Partners, Penn Presbyterian Medical Center, Philadelphia, PA)
Dr. Leggin is an Advanced Clinician II, Good Shepherd Penn Partners, Penn Presbyterian Medical Center, University of Pennsylvania Health System, Shoulder and Elbow Service in Philadelphia, PA. Graduated from Ithaca College, Ithaca, NY with Bachelor of Science degree in Physical Therapy in 1991. Graduated from Drexel University, Philadelphia, PA with a Master of Science degree in Biomedical Science in 1997. Completed DPT at Temple University in 2006. Certified Orthopedic Clinical Specialist by the American Board of Physical Therapy Specialties in 1999. Brian has worked at the University of Pennsylvania since 1991 and has been part of the Shoulder and Elbow Service since 1992. He has developed and published the psychometric properties of the Penn Shoulder Score. In addition, Brian is and has been an adjunct instructor and guest lecturer in the Physical Therapy programs at Arcadia
University, Virginia Commonwealth University, University of Medicine and Dentistry of New Jersey-Camden, and the University of the Sciences in Philadelphia. He is currently an active member and past-President of the American Society of Shoulder and Elbow Therapists and a member of the board of the International Congress on Shoulder Therapy. Publications include several book chapters and peer reviewed journal articles in Journal of Shoulder and Elbow Surgery, Journal of Bone and Joint Surgery, Physical Therapy, and the Journal of Orthopedic and Sports Physical Therapy, among others. He has given numerous scientific and professional presentations on the local, state, national, and international level.
Laurence D. Higgins, MD (Brigham & Women's Hospital, Boston, MA)
Dr. Higgins completed his undergraduate work in biochemistry at the State University of New York at Stony Brook, a master's degree in physiology at Georgetown University, and his medical degree at the State University of New York at Stony Brook School of Medicine. He completed his residency training at the Hospital for Special Surgery in New York City and was a Fellow in Sports Medicine and Shoulder Surgery at the Center for Sports Medicine, University of Pittsburgh Medical Center. He is the former Director of the Duke University Sports Medicine and Shoulder Surgery Fellowship program, former Head Team Physician for both the Duke University and North Carolina Central University Sports Teams. Currently, he is an Associate Professor of Orthopedic Surgery at Harvard Medical School and is Chief of the Sports Medicine and Shoulder Service at Brigham and Women's Hospital. His clinical interests include rotator cuff injuries, shoulder instability, shoulder replacement, knee instability (especially ACL, PCL and complex ligamentous injuries). He is additionally trained in cartilage and meniscal
repair. He is active in clinical research, the education of residents and fellows and has published nearly 50 peer reviewed papers. He is very active in the national orthopedic community where he is a member of the American Shoulder and Elbows Surgeons, The American Orthopedic Association, The Eastern Orthopedic Association, and the International Cartilage Repair Society.
LECTURES
Functional Anatomy and Biomechanics of the Rotator Cuff - Thigpen

Pathophysiology and Healing of the Rotator Cuff - Thigpen
Classification, Diagnosis, and Workup of Rotator Cuff Tears - Wilcox
Current State of Rotator Cuff Repair - Higgins
Massive Rotator Cuff Tear Salvage Procedures - Higgins
ASSET's Evidence Based Rehabilitation Guidelines following Rotator Cuff Repair - Wilcox
Examination, Initial Treatment, and Exercise Progression following Rotator Cuff Repair - Leggin